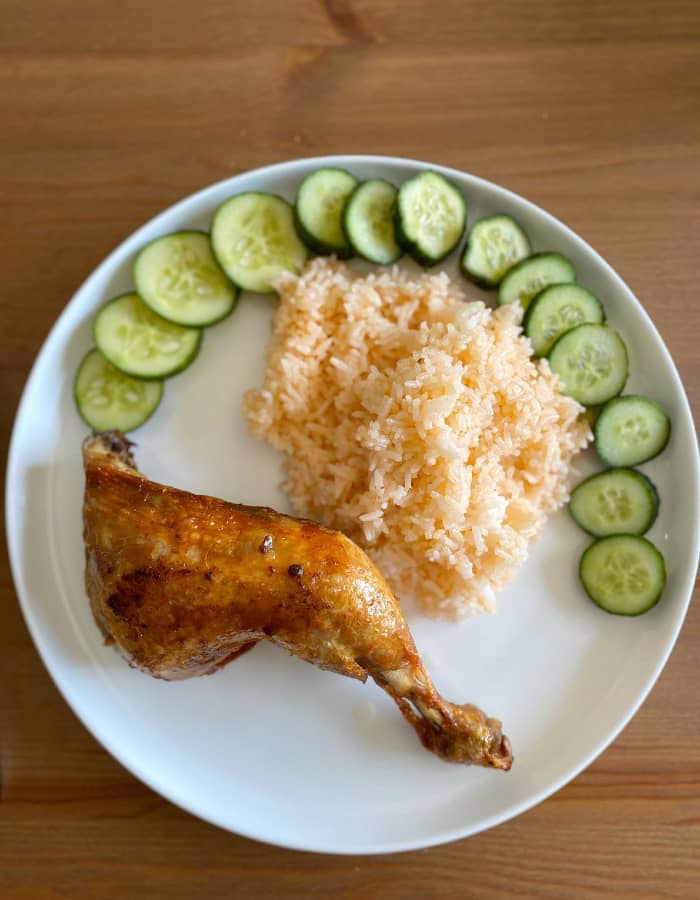 Chicken:

2.5kg chicken (8-9 marylands)
2 Tbsp rice malt syrup
5 Tbsp rock salt
2/3 cup white vinegar
1 Tbsp Chinese cooking wine
2 Tbsp fresh ginger
---
Step 1
Add 3L of water into a pot with all the ingredients, except the chicken. Bring to boil.
---
Step 2
Use a fork to puncture a few holes in the chicken (meat side only).
---
Step 3
Add chicken into the pot. Make sure the chicken is covered in water. Cook for 17-20 minutes, depending on the size of the chicken pieces. Turn off heat. Leave the chicken in the pot for another 5-7 minutes.
---
Step 4
Drain the chicken. Let cool down. Refrigerator overnight before frying (medium heat for 8-10 minutes).
---
(Optional) Garlic rice:
- In a pan, fry 1 tsp minced garlic in 1 Tbsp oil.
- Add 2 cups of cooked rice, 1.5 Tbsp tomato sauce and 1/2 tsp salt.
- Mix well and cook for about 3-5 minutes at medium high heat. Ready to serve.